Bobcat 328 Error Codes
Bobcat 328 Error Codes were written to give the owner / operator instructions on the safe operation and maintenance of the Bobcat vehicle.
Viewing Service Codes At Bobcat 328
Press the Information button to cycle the data display until the service code screen is displayed. If more than one service code is present, the codes will scroll on the data display.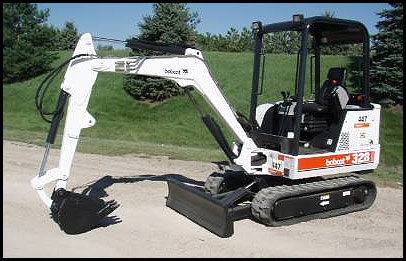 This is the long-armed version of the 325 excavator - ideal for jobs such as loading trucks, cleaning ditches and other shallow excavating work. The 328's longer dipper means means less repositioning and faster job completion.
This machine has an engine that produces 27.5 horsepower and has an operating weight of 6,146 pounds. This Bobcat 328 Mini Excavator is shown to the left with a front dozer blade and bucket attachment.

9' 5" Maximum Digging Depth
9' 9" Maximum Dumping Height
14' 10" Maximum Reach at Ground Level
27.5 hp Liquid-Cooled Diesel Engine

Hydraulic System
The hydraulic circuits on Bobcat D-Series excavators use the latest in pump and valve technology for excellent control of work group functions.
BOBCAT 328 SERIAL NUMBER LOCATIONS
Always use the serial number of the loader when requesting service information or when ordering parts. Early or later models (identification made by serial number) may use different parts, or it may be necessary to use a different procedure in doing a specific service operation.
Serial Number
Bobcat 328 serial number plate is located on the outside of the loader frame.

Explanation of Serial Number:


The four digit Model / Engine Combination Module number identifies the model number and engine combination.
The five digit Production Sequence Number identifies the order which the loader is produced.